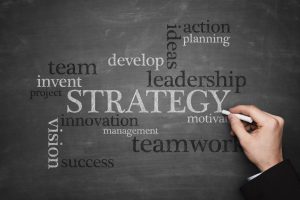 "There is only one racing strategy that matters. It's the one I run by: Get in the lead and don't let anyone pass you."
Novel character Jessica Darling in "Sloppy Firsts" by Megan McCafferty
---
Strategy terminology – Dimensions and perspectives
Most managers probably agree: for business success it is important to have a strategy. But what does this mean? Is this always about 'grand decisions' such as for example in the 1990s at IBM the reorientation towards services or at E.ON in 2016 the spin-off of the conventional power generation? At the same time, many also know so-called 'strategic investments'. Such projects sometimes seem to be rather pet projects of certain business units instead of bringing the company on the next S-curve in terms of growth and performance. So what should one expect from a strategy? How detailed should it be? How flexible? How much can be quantified, where are the limits of quantification? There are various perspectives and definitions on strategy, e.g.:
Strategy as a perspective: Basic believes of the business in terms of business model and logic
Strategy as a plan: Development of a mid- to long-term plan for reaching the company's goals
Strategy as a position: Creating a unique sustainable competitive position and advantage in the market
Ressource-based strategy: Creating a bundle of core competences and dynamic capabilities to reach a unique competitive advantage
Strategy as a pattern: A pattern of coherent activities that create a consistent picture, as a result of an evolutionary development of the business
We believe that in practice it is helpful to have a mix of the different perspectives and approaches and the connected dimensions for analysis and decision making, in order to support change and growth in companies.
Methods and frameworks
There is not the one and only method for strategic analysis and strategy formulation. In our experience, most strategy projects are tailored very specifically to the particular client and their situation. While we believe in client-specific approaches, we of course also have a broad set of standard tools and approached with which we support our clients, e.g.
Analytical frameworks such as industry structure analysis, value chain analysis, value pocket analysis, SWOT, etc.
Interactive approaches through the set-up and use of a 'War Room' and 'War Gaming'
Description and detailing of future business models, e.g. through a 'Strategy Canvas'
From strategy to implementation
Jack Welsh, long-time CEO of General Electric, has summarized the connection between strategy and implementation as follows:
"In real life, strategy is actually very straightforward. You pick a general direction and implement like hell."
Fair enough, this is quite a pointed statement. Indisputable in any case is: without a successful implementation, the best strategy is worthless. In our projects, we make certain that throughout the project we contrast strategic options and practical implementation abilities, give a realistic picture of strengths and weaknesses of the organization and  early on prepare for implementation: e.g. through joint project teams, a strong focus on internal alignment and a realistic implementation planning and preparation and pragmatic change management.
Example project approach – Workshop-approach in the "War Room"